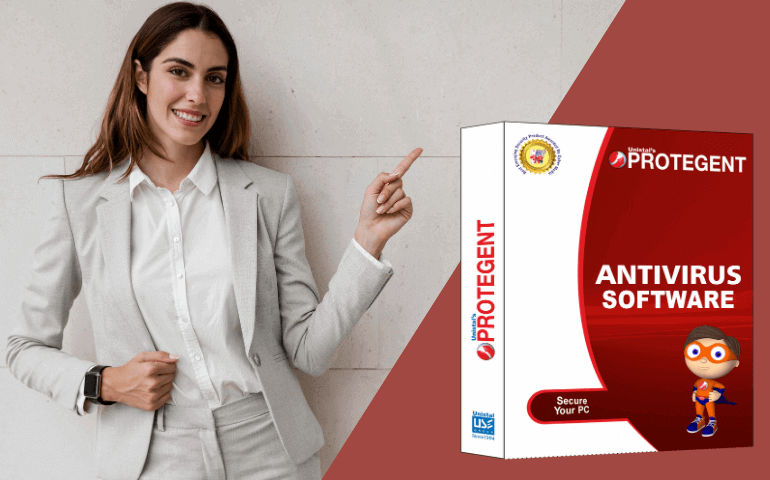 Protegent 360 Complete Security is an advanced complete software package with superior security features for comprehensive protection against advanced online cyber threats. Bundled with unique features, Complete Security provides 75% extra features as compared to other products available globally. Protegent 360 Complete Security is designed with the prime motive to protect data from viruses, data theft, and attempts of unauthorized access to confidential data. Protegent Complete Security is capable of protecting your business, essential data, and computer/laptop from malicious attacks. Protegent 360 Complete Security has an intuitive interface that is user-friendly and very logical to navigate. This makes Protegent360's complete security easy to use for both tech-savvy and casual users.
We understand the importance of data security and data theft prevention, that's why experts at Unistal have designed complete security, which features:
Effective Antivirus Security
Most advanced protection against online cyber threats
Proactive data recovery for lost/deleted data
Prevention of unauthorized data leakage from different external sources
Reporting and monitoring of user's application and internet use
Secured data encryption in case of laptop theft
Enhances system performance
Protegent 360 Complete Security is a package of 6 different modules:
Protegent Total Security
Port Locker
Locate Laptop with Data Encryption
Activity Reporter & Monitoring
SysBoost
Crash Proof
PROTEGENT TOTAL SECURITY
Protegent Total Security is the best antivirus software which comes along with Protegent Complete Security solution. This antivirus for PC goes beyond malware protection and with its extremely advanced features offers security against viruses, malware, root kits, Trojans, and other advanced online threats. Protegent Total Security antivirus for PC offers secure web browsing for you and your family. This antivirus software has 30% extra protection from other internet security products with the help of specially designed virus scan engine. Protegent Total Security comes with advanced cloud protection technology for your laptop/ computers to provide real-time security against the latest threats.
PORT LOCKER
Port Locker is one of the modules present in Protegent 360 Complete Security which is data leakage prevention software. It prevents any sort of unauthorized data leakage from any external media that can be in any form like USB, Printer, Network Adapter, CD/DVD, IEEE 1394 and others. Port locker does it by blocking all the possible ports of the computer through which data can be transferred. For every organization and individual, it is always challenging to keep confidential data safe and protected which Port Locker software does with ease. There is a certain requirement of controlling, monitoring and preventing the flow of data through the computer. This product gives assurance to protect the flow of data from all the ports, leaving no chance of data theft. Port Locker ensures that the data remains safe in the system and there is no way that this data can get out from the system.
LOCATE LAPTOP WITH DATA ENCRYPTION
Locate Laptop is one of the modules in Protegent 360 Complete Security for the protection of your laptop as well as data. If your laptop gets stolen, thenLocate Laptop is the perfect tracking software which provides pin point location when the laptop is connected to the internet. It uses Google Maps to show the exact location of the laptop along with longitude and latitude details as well. Locate Laptop has the advanced feature of finding out the location using theIP address when it is connected to the internet. It also has a feature ofautomatic data encryption in the stolen laptop, if it is not connected to the internet for a specified period of time making the data unreadable to the thief. Locate Laptop helps a person to keep track of employee's laptop and location using a master login.
ACTIVITY MONITORING AND REPORTING
Activity Reporter is a very important module in Protegent 360 Complete Security which is responsible for monitoring and reporting of application and even the internet activities of the user. Activity Reporter works as a spy which records every keystroke on the computer and monitor internet on a regular basis without the user having the knowledge of it. The software can also be customized to record any blacklisted applications used on the computer system. The admin can also select from the various reporting formats and can schedule an email to their configured email ID.
SYSBOOST
SysBoost is system tune-up software which improves/ enhances the performance of user's computer by deleting junk files, folders, temporary registries and also by defragmenting drives. This is the best application which is designed for MS Windows and helps in maintaining, managing and optimizing computer system's performance. SysBoost is also a part of Protegent 360 Complete Security software.
CRASH PROOF
Crash Proof is one of the modules present in Protegent 360 Complete Security. Protegent data security product range comes with inbuilt proactive data recovery module: Crash Proof which is specially designed to prevent any type of data loss incidents. It provides 100% assurance to protect data that has been accidentally lost, deleted, corrupted or got inaccessible due to any reason. Crash Proof records the file indexes/ disk properties and updates them at regular intervals. This recorded information is stored in protected areas and used to recover lost files and also un-format a lost drive.
YOU MAY INSTALL PROTEGENT COMPLETE SECURITY, ONLY ON COMPUTERS RUNNING THE FOLLOWING OPERATING SYSTEMS:
Windows 10, Windows 8 and 8.1, Windows 7
Minimum system requirements for Protegent 360 Complete Security
1.8 GB available free hard disk space (at least 800 MB on the system drive)
800 MHz processor
2GB MB of memory (RAM)
Recommended system requirements for Protegent 360 Complete Security
2.8 GB available free hard disk space (at least 800 MB on the system drive)
Intel CORE Duo (1.66 GHz) or equivalent processor
4 GB for Windows 7, Windows 8 – 8.1 and Windows 10.
FEATURES OF COMPLETE SECURITY
SYSBOOST OR SYSTEM TUNE UP FEATURES
SysBoost helps elevate the performance of any windows operating system. It instantaneously improves your system speed by fixing registry issues, defragmenting registry, clearing out the unneeded junk data which unburdens the system processor and RAM. This allows your system to run smoothly without any system hangs and lags.
It quickly scans corrupt, junked registry entries, files and problems, individual online histories & obsolete harmful files and cleans them instantly. This optimizes your personal computer/ laptop and boosts its performance. SysBoost is one of the modules of Protegent 360 Complete Security software.
File Wipe
This module amplifies PC's performance by wiping off all the unwanted files from your system present at different locations.
Tune Up-
This feature removes all the unnecessary files and entries present in your system to improve its functioning and boost the performance.
Registry Cleaner-
This feature scans the registry and gives accurate information of unwanted registries. It gives you the option to select and delete the unwanted registries, thereby making your system free from junk files. The software goes deep into your system directories and removes all the unwanted registries.
Registry Restore-
There can be registry files which get deleted accidentally or with all other registry files which you wish not to delete. With this feature, you can easily restore all those registry files which get deleted while tuning up the system.
Internet File Wipe-
This feature helps in wiping out all the unwanted temporary internet files like cache memory, cookies and browsing history from your system permanently. It fine-tunes your browser to give you smooth and fast internet experience.
Disk Defragmenter-
Disk Defragmenter is a tool that helps in rearranging all the files and folders on your system's drive in a phased way. In this way, your system equally divides the area for each file in a phased manner which eventually speeds up the performance of your system and helps it run smoothly as well as efficiently.
FEATURES OF PORT LOCKER
This is one of the in-build software which comes with Protegent 360 complete security software, Port Locker is a data protection software application which blocks all the USB ports to prevent data leak and data theft. These external drives can be pen drives, memory cards, flash drives, etc. It's advanced features also prevent from unauthorized printing and data transfer through the network. User can also turn it off in case they do not have a security risk. This software provides many customized approaches to block ports according to the convenience of the user. Port Locker is one of the modules of Protegent 360 Complete Security software.
Block USB Port-
This feature blocks all the ports present in the system and denies access to any external device inserted.
Whitelisting of Authorized USB Devices-
With this unique feature of Port Locker software, users can Whitelist the authorized USB by using unique hardware ID of the device.
USB Read Only Feature-
This software provides users an option of assigning USB read-only setting to whitelisted and non whitelisted USB Mass storage device.
File Transfer Logs To and From USB-
File Transfer logs will show the reports of the file transferred to and from USB device along with the reports of files added, removed, renamed and modified. This will keep all the information regarding any movement, transfer and accessing of files from the system to the USB or from the USB to the system.
Block IEEE 1394-
This feature blocks IEEE 1394 USB to prevent any kind of real-time data transfer and data leakage from the system.
Block Network Adaptors-
This feature blocks network adaptors to prevent any kind of data transfer over a network and keep your data safe.
Block CD/DVD
Removable or in-built CD/DVD can be blocked by blocking the CD/DVD port which no one will be able to read or write the CD/DVD from the system. The blocking of CD/ DVD will prevent your system from data theft or infusion of any unnecessary data in your system.
Block Printer-
Printers are also a medium for data theft, with this feature of port locker software, no print command will work when printer port gets blocked.
Block/ Unblock as per schedule or block port when the system is idle-
With this unique feature of port locker software, multiple or single ports can be blocked automatically according to the set schedule and you can even block/ unblock the port if you leave your system idle. Only an authorized user can unblock the port by using the password.
Email Filtering-
With the email filtering option, user can get the log of filtered outgoing email and emails which are blocked on user's machine. The filtered content includes date and time when the mail was blocked, receiver's email address, name, size of the attachment, Email subject and content of the body. This will provide all the details of emails and help monitor the transfer of data over the emails.
Block Bluetooth-
This feature blocks all Bluetooth devices which can be connected to the system for transferring internal information.
Block / Unblock Single / All Ports-
This feature gives the user the ability to block single or multiple ports as per his specific requirement. Just select the port/ ports you wish to deny access and block them permanently or for a specific period of time.
FEATURES OF ACTIVITY REPORTER
Activity Reporter is very productive software which is designed to help parents and employers to keep track of computer activities including visited websites, sent and received emails, chat conversation, files, internet activities, etc. It runs in the background of the computer and is completely invisible. Activity Reporter is one of the modules of Protegent 360 Complete Security software.
Monitor Internet Activity
Captures all Internet activity with features of Blacklist and White list websites.
Captures all Internet activity with features of website visited.
Monitor Application Activity
Captures all system application activity with features of Blacklist and White list.
Captures all system application activity with features of Application monitoring.